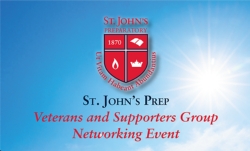 What

EVENT POSTPONED. St. John's Prep Veterans & Supporters Group Networking Event

When

3/28/2020, 10:00 AM

–

1:00 PM

Where

2121 Crescent Street Astoria, NY 11105
EVENT HAS BEEN POSTPONED.

St. John's Prep and Mater Christi alumni veterans of all military services are welcome to join us for networking and a light brunch. We also welcome all friends and family who support our veterans.